Quick Links:
Become a Volunteer
Upcoming workshops
Support our 'Save Sisters Day Out' Campaign
Connect:
| | |
| --- | --- |
| | tweet us |
| | follow us |
| | join our sisters |
Latest News:
Published on April 13, 2017
Here we are at FVPLS Victoria 2017 Staff In-service, representing the Young Luv Program self-love butterfly wave, to empower our young Aboriginal women of today.
#thebutterfly #CulturalStrength #youngluv4FVPLSVIC
Published on Mar 30, 2017
This article appeared in Australasian Lawyer and outlines FVPLS Victoria's new formal partnership with Lander & Rogers law firm, who are our long-time supporters.
"We recognise FVPLS Victoria as the expert in the field," Joanna Renkin, Pro Bono and Community Support at Lander & Rogers.
#CulturalStrength #DontSilenceTheViolence
For full article: click here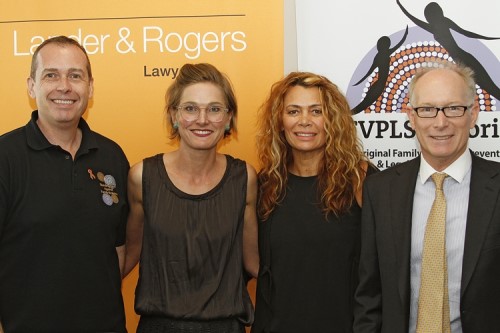 (L-R: Nick Toonen - General Manager, FVPLS Victoria; Joanna Renkin - Pro Bono & Community Support Partner, 
Lander & Rogers; Antoinette Braybrook - CEO, FVPLS Victoria; Andrew Willder - Chief Executive Partner, Lander & Rogers)
Published on Mar 8, 2017
Our CEO, Antoinette Braybrook was today awarded The Yarra City Council's 2017 Inspirational Woman of Yarra Award.
It's a great recognition of Antoinette's work and leadership – and a great reflection on the whole FVPLS Victoria team, who stand firm against family violence with Antoinette.
Antoinette was far away in Fitzroy Crossing in WA celebrating the appointment of June Oscar to the position of Aboriginal and Torres Strait Islander Social Justice Commissioner and International Women's Day when this award was announced. FVPLS Victoria Community Legal Education Team Leader, Meriki Onus recieved the award on Antoinette's behalf.
Published on Feb 28, 2017
Local WIN TV visited us in Traralgon at our recent Sisters Day Out Workshop
#standingfirmagainstfamilyviolence
Published on Nov 3, 2016
Check out our Aboriginal Womens Writers List - Grow Your knowledge flyer
Need help?
Call the Aboriginal Family Violence Prevention and Legal Service Victoria toll free on 1800 105 303.
If you need support after hours you can call safe steps Family Violence Response Centre of Victoria on 03
9322 3555 or country toll free on 1800 015 188. For emergency assistance, call Police on 000.